Corporate Social Responsibility
Officers and Board Committees
Officers
Hideki Tanifuji, President
Mr. Tanifuji, 46, founded the company in May 2015. He is one of the founding members of M&A Corporate Advisory and served as its M&A Advisory Director from 2007 to 2014. Prior to his involvement in the M&A Corporate Advisory, he was also a Corporate Officer and M&A Consultant at M&A Capital Partners, which was eventually listed in the Tokyo Stock Exchange in 2013, and now has the market capital of about $1.5B. He closed more than 50 deals, and worked in different industries globally in his years of experience in M&A.
---
Shaela Mae M. Claveria, Treasurer
Ms. Claveria, 27, is a Certified Public Accountant (CPA) and a Certified Financial Consultant (CFC). She graduated with a degree in BS Accountancy from the University of Santo Tomas in 2015, and she passed the CPA licensure exam the same year. In 2018, she attended the 46th CFC program held by the Institute of Financial Consultant Philippines (IFC PH) and earned the CFC designation after successfully passing the examination in 2019. She also attended the 60th Financial Modeling Masterclass program held by IFC-PH in 2020. Prior to joining AMAL, she was a Tax Associate in SGV & Co. where she became involved in Philippine and US taxation and immigration.
---
Atty. Karlon V. Pambid, Compliance Officer
Atty. Pambid, 34, obtained his A.B. Philosophy from San Pablo Major Seminary in 2007 and earned his Bachelor of Laws from San Beda University in 2013. He passed the Philippine Bar Examination on November of 2013 and has been practicing as Corporate Lawyer for more than five (5) years. He is the Managing Partner of the Pambid Cruz Law Office, and he also serves as Legal Counsel and Corporate Secretary to the following companies: One World Japanese Language Training Center, Inc., One World Human Resources Development Inc., Four Nais Manpower Agency Inc., Reiwa Business Consultancy OPC, Kare Global Manpower Services Inc., RBT Consulting Services Inc., JVES Inc., Carteknik Auto Service Center Inc., Laouiebev Sports Apparel Inc., Responsive Business Consultancy Services Inc.EG-Cool Philippines, OPC., Filix & Fields Business Services Inc., Emiyus Philippines Foundation Inc., WTTBP Holdings Inc., Hideki Tanifuji Foundation Inc., and Nissho BGC Holding Inc.
---
Christine Joy David, Corporate Secretary
Ms. David, 27, is a Certified Public Accountant (CPA) and a Certified Bookkeeper. She graduated from the Adamson University with the degree of Bachelor of Science Major in Accountancy, and she is currently pursuing further studies in Juris Doctor - Law at the Arellano University School of Law. She became a Certified Bookkeeper in 2012 and passed the CPA licensure exam in 2016. She worked as an Accountant in SM Foundation Inc from October 2013 to March 2014, then, she became an Accounts Payable Specialist in San Miguel Properties Inc. from March to October 2014. Prior to her involvement in AMAL, she was an accountant of Arcadis Design and Consultancy.
---
Board Committees
Corporate Governance Committee
Download
Atty. Joanna May Casita, Chairman
Members:
Samuel Poblete
Atty. Karlon V. Pambid
Executive Committee
Hideki Tanifuji, Chairman
Members:
Dinah B. Ilagan
Christine Joy David
Risk and Audit Committee
Samuel Poblete, Chairman
Members:
Atty. Joanna May Casita
Shaela Mae M. Claveria
Organizational Chart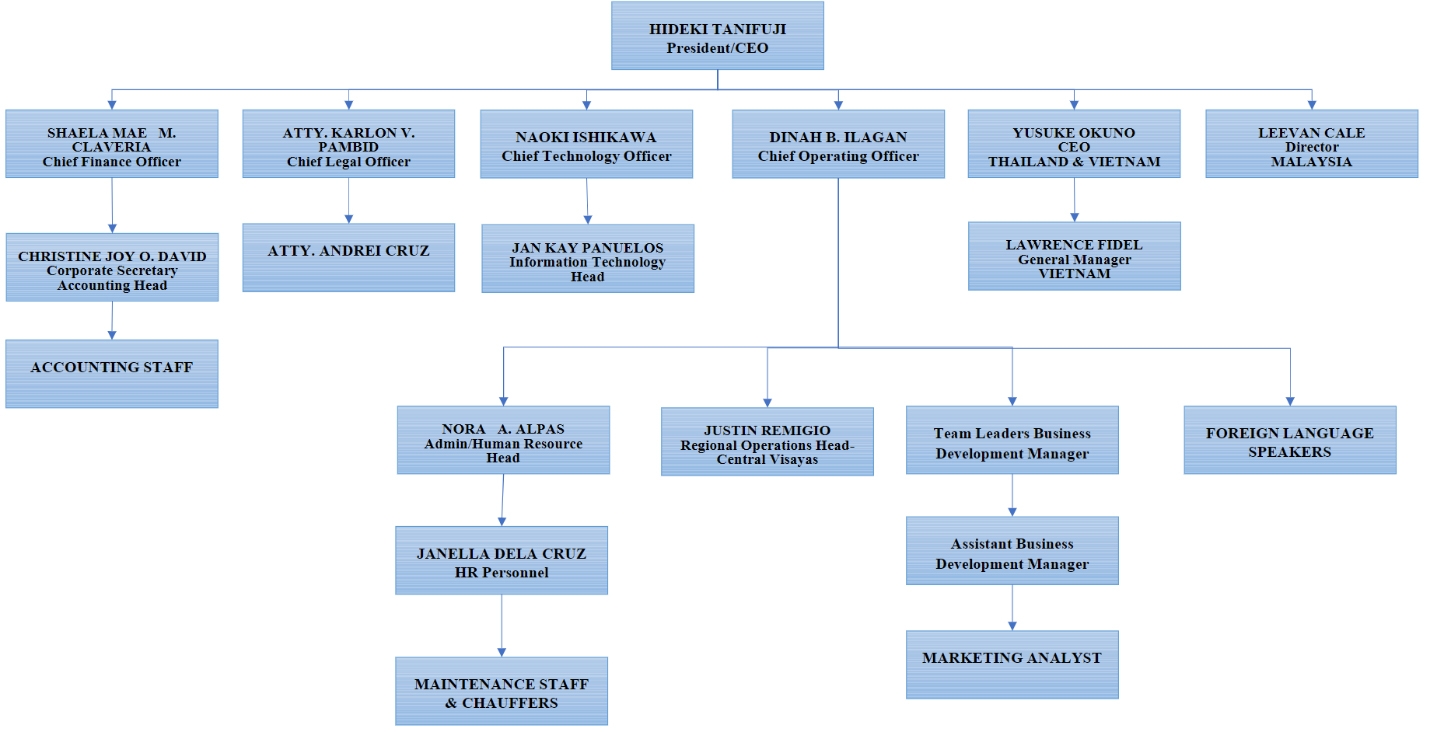 Corporate Structure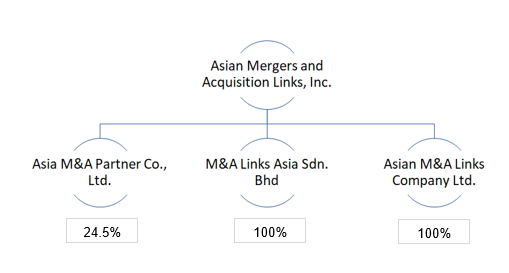 Shareholdings Structure

Other Disclosures
Corporate Governance Committee
Download
Atty. Joanna May Casita, Chairman
Members:
Samuel Poblete
Atty. Karlon V. Pambid
Executive Committee
Hideki Tanifuji, Chairman
Members:
Dinah B. Ilagan
Christine Joy David
Risk and Audit Committee
Samuel Poblete, Chairman
Members:
Atty. Joanna May Casita
Shaela Mae M. Claveria